VOL 4: Sustainably Sailing The East Coast
SUSTAINABLY SAILING
THE EAST COAST

SafeStyle videographer Brocky, set sail with skipper Mitch Wakeling & decky Matty Lewthwaite on a sustainable sailing journey that will take you from Southport Yacht Club to Lady Musgrave Island & back again. This is not your ordinary sailing trip!
These legends set out to eat only what they could catch & using their expert spearfishing skills allowed them to be selective in choosing what was to feature on the menu. Jump aboard the 37 foot Bavaria Cruiser as the boys make their way from the Gold Coast to Lady Musgrave Island on the Great Barrier Reef, located roughly 35 nautical miles offshore from Seventeen Seventy in Queensland.

With ten weeks preparation, plenty of beers & fingers crossed for fine conditions, this trip was going to be a once in a lifetime experience.

Is it all smoothing sailing for these frothers? Watch the full video to find out!

Follow us on this episode of 'The Journey' and see what it takes to sustainably sail the east coast of Australia.
SafeStyle.. an idea brought to life. One pair of safety sunglasses that has changed the game forever. At first, I thought it would just be a great achievement to create a pair of protective eyewear that hopefully my mates would like… you really never know what's just around the corner. I never thought I'd be responsible for a running a worldwide business. But on top of the success with SafeStyle came with a lot of opportunity's and opened doors I never thought was in my reach. Thanks to my amazing circle of friends and the team here at SafeStyle, we have evolved into a company that can and will give back. We have big ideas about where we can take "The Journey" thanks to the collaboration with H Brockman Media and the SafeStyle team we are able to provide this platform in hopes to bring inspiration to like minded groups and individuals to bring success to many generations to come!
Being a country boy from a small farming community a couple of hours North of Perth, Western Australia Henry has the utmost respect and love for the land and ocean. Starting out capturing Earths natural beauty through photography, he gained a strong passion for being able to express the way life looks through my eyes. This love for cameras has grown immensely over the years as he immersed myself in learning the ways of cinematic film making and adventure photography. Henry creates exciting, energetic and engaging videos for advertisements, small documentaries and wedding videos. He has worked with athletes, business owners, musicians and truely unique and incredible individuals to share their amazing stories with the world. Henry has a true passion for his work and puts his heart and sole into creating a masterpiece with every new project.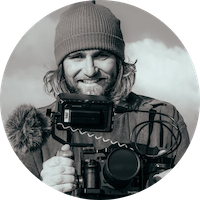 ---